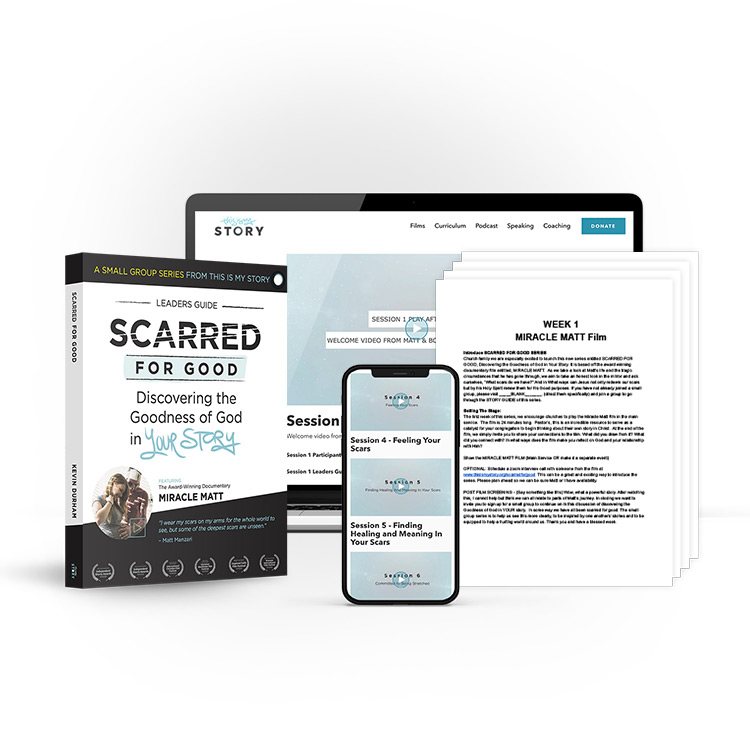 Scarred For Good Pastor's Kit
Everything You Need For a 7 Week Preaching Series
7 Weeks of Sermons + 1 Leader's Guide Book + All Access to the following:
Whole Church Series Guide
Sermon illustrations ideas
3 Minute Countdown Video
4 Short Sermon Bumper Clips
Digital Marketing and Promotion Material
Screening License of MIRACLE MATT for any size church
Digital Download of MIRACLE MATT film
7 Weekly videos for small group
Every pastor around the globe desires to see their church active in sharing the good news of Jesus and rooted in authentic community. As a pastor, this is your resource that can be a catalyst for both of these desires to come to fruition in your church.
The film (MIRACLE MATT), the SCARRED FOR GOOD series and the PASTOR'S KIT is everything you need to start a powerful church-wide movement of gospel storytellers who are not only DISCOVERING their story and SHARING together, but they have become inspired and equipped to go beyond the church walls, sharing with others. The gospel story is alive in your church and this series can bring those stories to light. Our stories connect us. Stories help foster vulnerability, and they lift the veil of lies around a false narrative that we are alone in our pain or our struggles. Get ready to get real and see God do far greater things that you could even hope or imagine through Scarred For Good: Discovering The Goodness Of God In You Story.
Kevin Durham, founder of This Is My Story, author of Scarred For Good and Producer of Miracle Matt, has 25 years of pastoral and preaching experience. He has prayerfully curated each week's sermon prep so that pastors not only have a Biblical starting point that aligns with the series, but it is gospel centered, and provides additional sermon resources. Utilizing this pastors kit allows your church to better immerse themselves in the series and hear from YOU, their pastor. What is your perspective on the MIRACLE MATT story or the weekly themes? And ultimately you can help build the connections to Christ for your church.
SCARRED FOR GOOD: Discovering The Goodness Of God In Your Story
Overview Of Sessions:
Session 1 – Watch MIRACLE MATT film
Session 2 – Seeing Beyond Your Walls
Session 3 – Believing The Goodness In Your Story
Session 4 – Feeling Your Scars
Session 5 – Finding The Meaning & Healing In Your Scars
Session 6 – Committed To Being Stretched
Session 7 – Sharing Your Story
Individual Participants' Guide Sold Separately.